I'd like to share with you an exciting new resource for those who are doubting, questioning, leaving or have left Christian Science.
---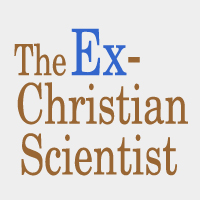 A group of former members of the Christian Science Church have launched a new website designed as a resource for people who have left or are considering leaving the Christian Science faith. Christian Science (not to be confused with Scientology) was founded by Mary Baker Eddy in the late 19th century and is perhaps best known as a sect that rejects medical treatment, advocating prayer exclusively for healing.
The website, called The Ex-Christian Scientist (www.exchristianscience.com), is maintained by an informal group of about fifty former Christian Scientists "who strive to assist those questioning their commitment to Christian Science as well as those who have already left it." Individual members of the group left Christian Science for varying reasons. Some are still religious, some are not. All, however, are united in their desire to help those who are questioning Christian Science to decide if there is a more appropriate path for themselves, and to provide an inclusive and understanding community for those who leave the faith.